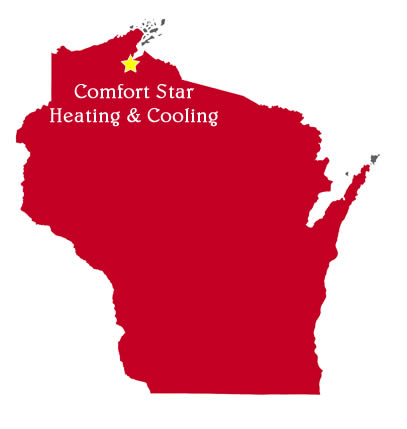 Comfort Star Heating & Cooling
Ashland, Wisconsin and Surrounding Area
27990 Cherryville Road
Ashland WI, 54806
HOURS:
Mon: 8:00 AM-6:00PM
Tue: 8:00 AM-6:00PM
Wed: 8:00 AM-6:00PM
Thu: 8:00 AM-6:00PM
Fri: 8:00 AM-6:00PM
Sat: 8:00 AM-12:00PM
Sun: After Hrs. & Emergency Service Available
Contact a Hardworking Technician for Your HVAC Needs?
FIXING AND REPLACING HEATING AND COOLING SYSTEMS IN ASHLAND, WI
Comfort Star Heating & Cooling offers HVAC services in Ashland, Wisconsin and surrounding area and been in business since 2007. Come to us for maintenance, repairs and installation of heaters, air conditioners, refrigeration units and more. Call us today to arrange a time for your service.
We are looking forward on working with you to resolve all your HVAC needs.